The façade of the freshly minted luxury boutique hotel 134 Prince announces with certainty that guests are in for unparalleled indulgence.  Opened in March 2021, the exclusive 5-suite hotel has already become a top choice among visitors to the area, setting the gold standard for hotel accommodations in Annapolis & Anne Arundel County.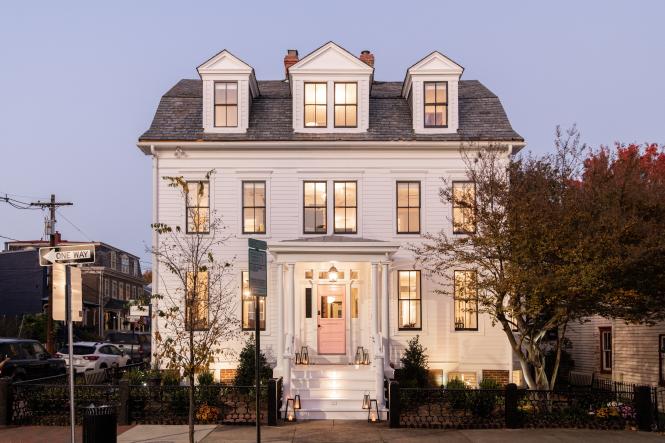 The austerity of the crisp white exterior, coupled with the inviting rose-petal blush of the front door
lets guests know it's time to get serious about having some fun.  Photo courtesy of Laura Metzler.
Near or Far
We're all in need of a little more wind in our sails these days.  Just steps from the U. S. Naval Academy, 134 Prince is the place to harness it.  It is not an understatement to say that every detail has been considered with the luxury traveler in mind.  The gracious, on-point staff is there to meet needs you haven't even thought of yet.  (Spirit tasting anyone?)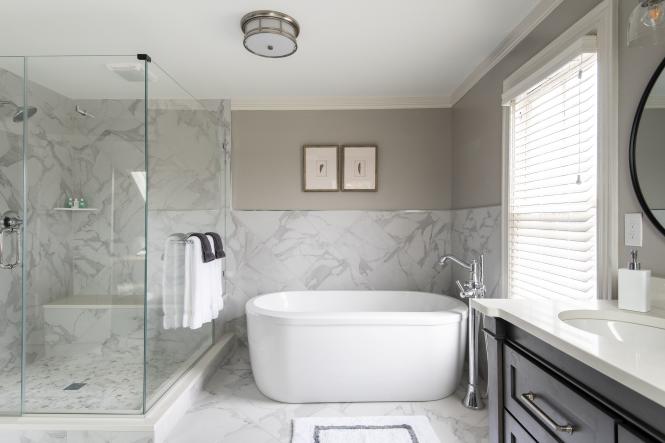 Spacious, spa quality bathrooms—stocked with Hermès
toiletries, no less—are reason enough to dip into this
luxury boutique hotel for your next special occasion.  Photo courtesy of Laura Metzler.
Whether you're visiting from out of town or looking for a luxurious lockdown on a local level, 134 Prince is the definitive place to treat yourself.  Slip into one of the provided robes and slippers after a long soak in the spa-quality tub or cozy up in a custom chair while taking in the streetscape down below.    
The Decadence is in the Details
Clint Ramsden and Cody Monroe, both USNA 2011 grads, led the transformation of the hotel.  The two former Navy pilots have been rehabilitating historic properties into luxury accommodations since 2013, with this being their first foray since being back in the Annapolis market.  Says Clint, "We spent more than a year studying the rich architectural details so that we could breathe new life into the building."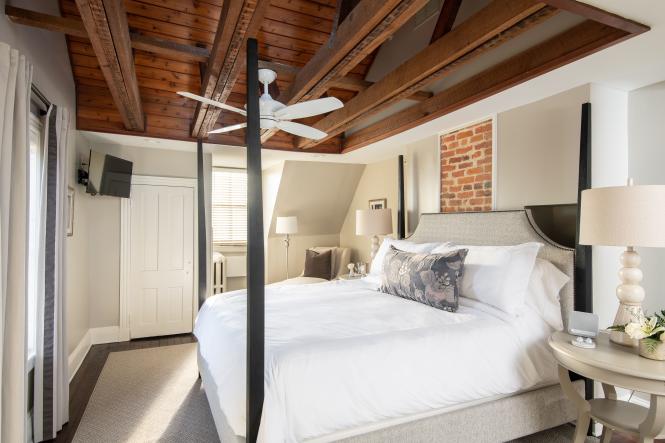 The sumptuous charcoal-infused beds, like this one in the presidential suite, have some guests ordering one of their very own.  The hand-ironed pillowcases (scented with a secret formula), and original 1849 beams, though, are going to make this stay hard to duplicate.  Photo courtesy of Laura Metzler.
And it shows!  The interior, a breathtaking layout furnished by award-winning design firm Interior Concepts, Inc., provides a welcome retreat for hotel guests in both the elegantly comfortable suites and the shared spaces of the dining room and parlor.  Even the hallways lend an air of fresh sophistication that will, you guessed it, put a spring in your step.
Book 'Em
If you are planning a wedding or other milestone event, you must book all 5 rooms here.  Now.  Any celebration held at 134 Prince will undeniably be catapulted to next-level status.  The exceptional staff and elegant intimacy of the property ensures memory making of the highest order.  Whether you host a kick-off to weekend festivities in the private garden, wrap it all up with a brunch in the courtyard or hold the main event at the property (D, all of the above), nothing much else will matter.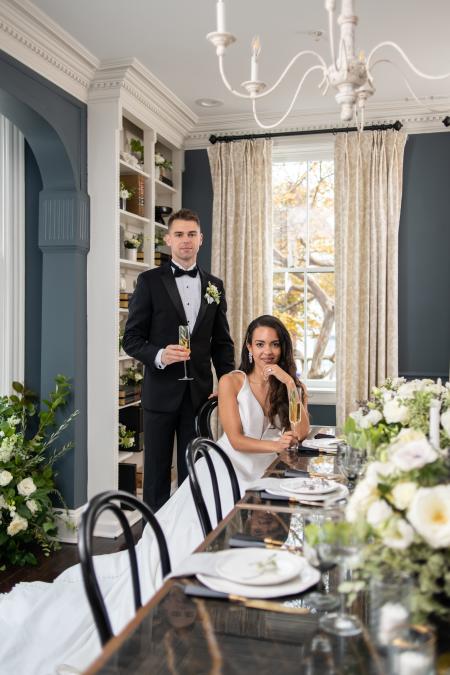 During uncertain times, one thing's for sure: this is the place. 
Photo courtesy of Laura Metzler.
Whatever your event may be, you can be confident the staff at 134 Prince will put you in touch with their equally chic list of vendors for an exceptional experience.  Looking for a sneak peek?  Be sure to stroll by May 1 to take in the show-stopping, customized arrangement developed by Stem & Thistle.
Beyond the Gate
If you can pull yourself away from 134 Prince, there's plenty to eat, explore and experience throughout the streets of Annapolis.  Tour the breathtaking campus of the U. S. Naval Academy, or stroll along City Dock and Main Street with a decadently sweet treat from The Red Bean. Lose yourself amongst the volumes of Old Fox Bookstore.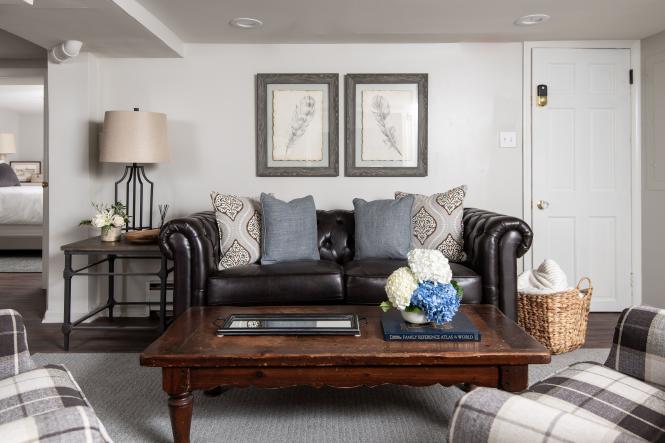 After a day of exploring Annapolis, put your feet up in the private living room of the 1200 sq. ft. Garden Suite.
Photo courtesy of Laura Metzler.
Soak up some nature at Quiet Waters or Sandy Point State Park.  Having worked up an appetite, indulge in a delicious dinner at nearby Harry Browne's or head to Eastport for a good old fashioned steak dinner at Lewnes'.  
Whatever your reason for coming to Annapolis, a stay at 134 Prince will always be the reason you return.