Waterfront dining is a must when traveling to Annapolis & Anne Arundel County! With over 500 miles of shoreline, traveling by boat is the best way to explore new dockside bars and restaurants. There are many spectacular options with great food and an equally fantastic view! Regardless of where you go or how you get there, eating by the water is a summer bucket list essential. 
So, grab your family and friends and head to one of these lively dock bars/restaurants in our summertime roundup...
The Point is located on Mill Creek in Arnold. This waterfront restaurant has garage doors that open to the water and is a favorite with visitors and locals alike. With marina access, you can dock your boat and enjoy one of the best crab cakes in Maryland. Between the cocktails and delicious bites like Nanny's Deviled Eggs (with or without the crab) and the beautiful views, this local favorite will have you back soon! Just ask Dave Grohl of the Foo Fighters, who often stop by this popular eatery on his way back from Rehoboth Beach, DE.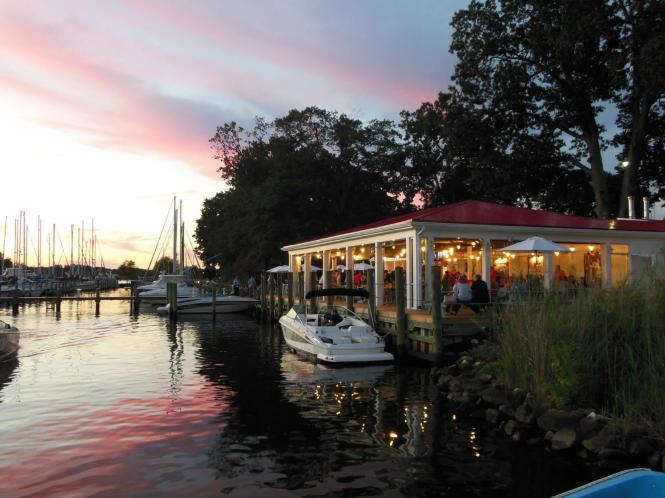 The Point Crab House & Grill in Arnold.  

 

Located in the charming town of Galesville, Pirates Cove Restaurant & Marina is a perfect place to dock for the day or the weekend. The full-service marina offers slips by the day with access to the pool during the summer; you can even book a night in their onsite motel. With an amazing waterfront view of the West River, you can enjoy live music while having a festive cocktail in your hand or order to go and eat at your slip. Either way, this dock bar needs to be on your radar this summer!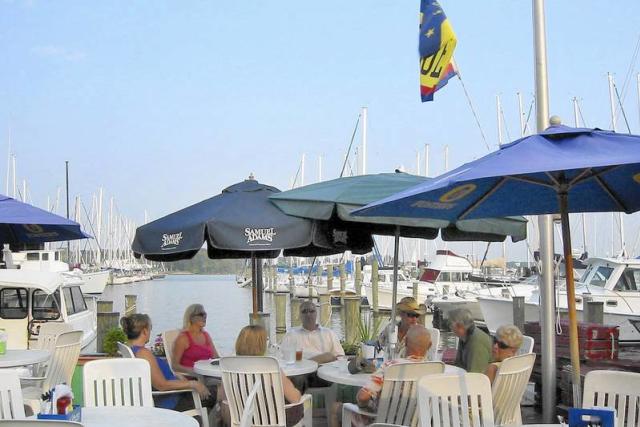 Pirate's Cove Restaurant Patio in Galesville.

 

 

Libbey's is your spot whether you are looking for a pleasant sit-down atmosphere or an easy-going bar! This waterfront restaurant is in Stevensville, just across the bay from Annapolis. With a fantastic view of the Bay Bridge, you can eat and drink out on the lawn with family and friends. Libbey's offers dock slips, complimentary for up to 2 hours, so you can boat over and enjoy a lovely afternoon on the Eastern Shore.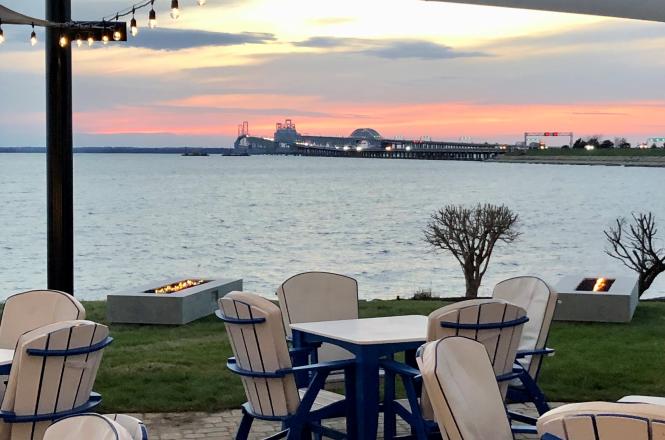 Libbey's Coastal Kitchen is just across the Chesapeake Bay Bridge in Stevensville.  

 

Mike's Restaurant and Crab House has two convenient locations; one is just minutes from downtown Annapolis and the other is located in Pasadena. Both destinations offer unbeatable views and a laid-back atmosphere to enjoy delicious seafood. You are guaranteed a great time with fresh crabs and orange crushes, so bring family, friends, or both!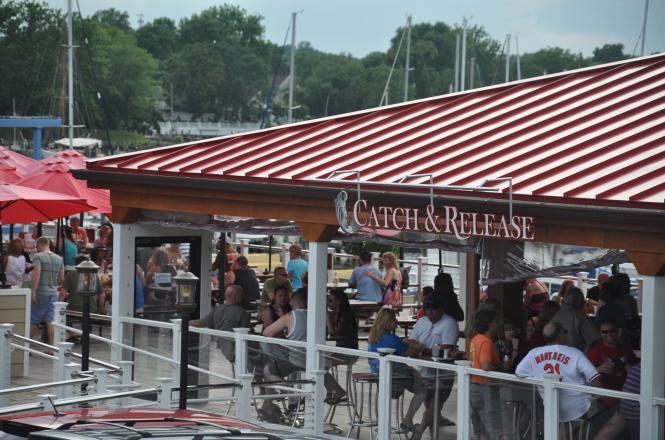 Mike's Restaurant & Crab House has two convenient locations.  

 

Rams Head Dockside is a hidden gem in Point Pleasant (Glen Burnie) with an unmatched view. The palm trees, sand, and bright blue umbrellas transport you to the islands! Add to that, Rams Head's signature live music and Fordham brews, and you can take a mini-mental vacation without the hassle of an international flight. And the wide open spaces make it suitable for children of all ages. Come by boat or car for a day on the water that is perfect for the whole family.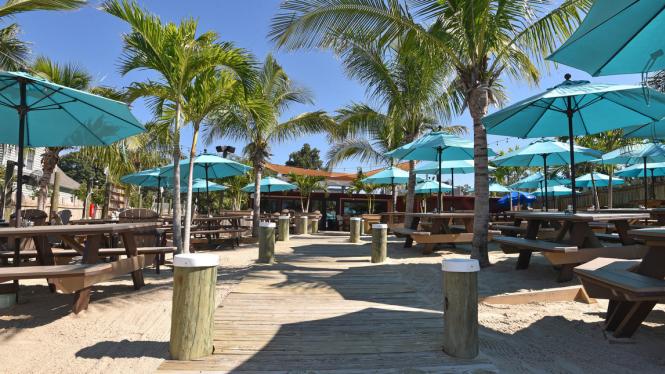 Ram's Head Dockside's Outdoor Patio is perfect for lounging with the whole family.   Do you have a favorite dock bar along the shores of Anne Arundel County? Please contact us here to include in our next story.