Black history and heritage are American from the ancient Olmecs to Frederick Douglass, Cynthia Abney Carter, DeJuan Gay, and beyond. African and American history are inseparably intertwined. Every month boasts of African American voices and events that changed history and continue to transform the present into an illustrious future. The Black History 365 Collaborative seeks to shine a much-needed light on those powerful voices.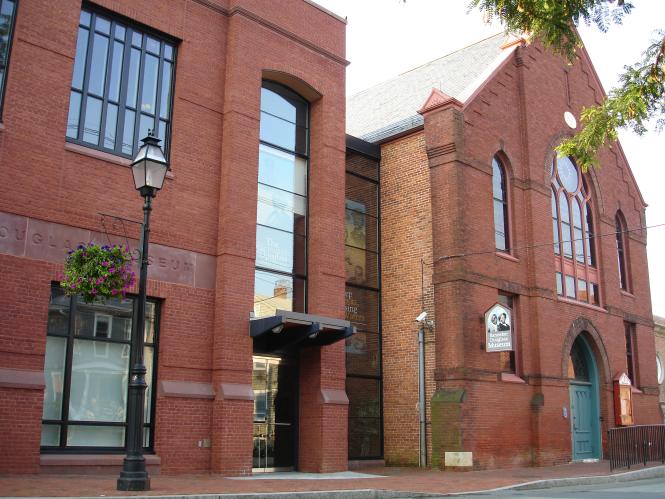 Banneker-Douglass Museum Image courtesy of Visit Annapolis & Anne Arundel County.

 

"The Black History 365 Collaborative is a space for local partners in Anne Arundel County to share and promote their upcoming black history programs, events, and exhibitions," says Chanel Compton, Executive Director of the Banneker-Douglass Museum and the Maryland Commission on African American History and Culture. Everyone involved with the project desires to "build strong resources for year-round black history programming and experiences in Anne Arundel County and beyond." The landing page will live on the Visit Annapolis & Anne Arundel County Website and launches February 1st to kick off Black History Month.

 
Interpreting History
"I had crossed the line. I was free; but there was no one to welcome me to the land of freedom. I was a stranger in a strange land; and my home after all, was down in Maryland; because my father, my mother, my brothers, and sisters, and friends were there. But I was free, and they should be free.
— Harriet Tubman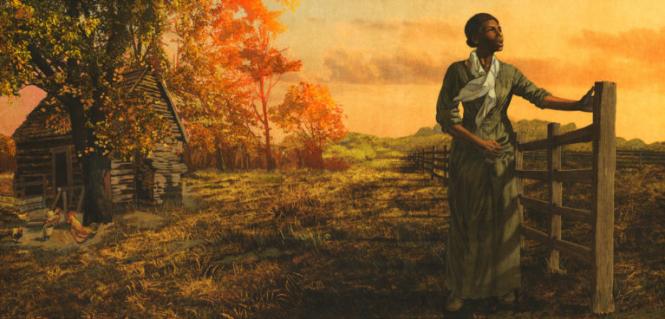 Art at Large, Sally Comport illustration for Harriet Tubman Underground Railroad Visitor Center. Image courtesy of Art at Large.

 

Black history is the living story of a people on hajj or pilgrimage back to unconditional freedom. The latter truth often gets lost to time, interpretation, and misrepresentation. Thus, the Banneker-Douglass Museum acts as a National Preservation site. The museum "serves to document, to interpret, and to promote African American history and culture (particularly in Maryland) through exhibitions, programs, and projects to improve the understanding and appreciation of America's rich cultural diversity for all" (Banneker-Douglass Museum website).

 

Although slavery is a dark speck in American history, the African American presence in America, ancient and modern, depicts a much grander story. A narrative the Black History 365 Collaborative aims to highlight. These American sons and daughters were thinkers, leaders, change-makers, codebreakers, shapeshifters, innovators, and motivators. In their unique ways, each chose to honor their ancestral bloodlines and elevate their statuses and those of their surrounding communities. For more information and to discover African American Heritage across Annapolis & Anne Arundel County, visit the Black History 365 landing page.

 
Discover Homesteads in Anne Arundel
In Anne Arundel County, especially here in Annapolis, a wealth of African American heritage is preserved. Many homes in the area are national and local landmarks and monuments of African American heritage.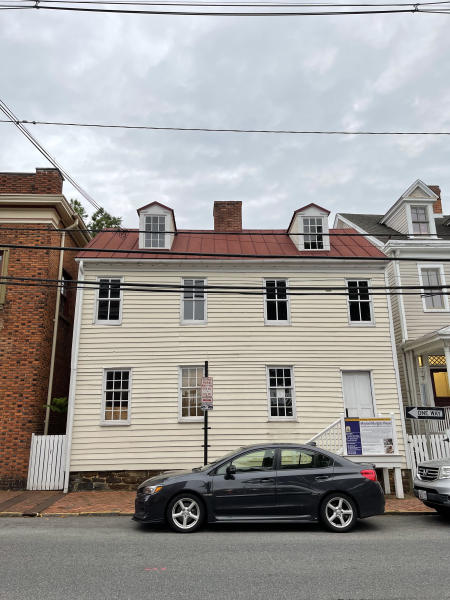 The Maynard-Burgess House in downtown Annapolis. Image courtesy of Visit Annapolis & Anne Arundel County.

 

The Maynard-Burgess House in Annapolis lives on as a lasting tribute to the aspirations and ever-triumphant spirit of African Americans. Home to two successive families, the Maynard-Burgess House was first acquired by John Maynard in 1847 and then held and ran as a boarding house by his descendants until 1914. From 1921 to 1990, Willis Burgess, a former boarder, his wife, and his family were stewards over the land and home.

 

Likewise, the Matthews House still stands on land bought and stewarded by John Wheeler, a freeman, in 1802. The land transferred from freeman to freeman for over half a century before being conveyed to Bernard and Mary Well, both of European descent.

 
Walk Down Memory Lane
From the late 1700s to the mid-1800s, East Street was home and business to African American merchants and the working class. Similar to East Street, Fleet Street in Annapolis ushered in changing tides. The majority of African Americans in the late 1800s took ownership of their homes instead of simply renting.
Explore Noble Spirits
Through the trials and tribulations, honorable American figures rose and continue to rise to ensure the next seven generations and thereafter can know freedom. Anne Arundel County is home to monuments and memorials of many prominent and unsung African American heroes.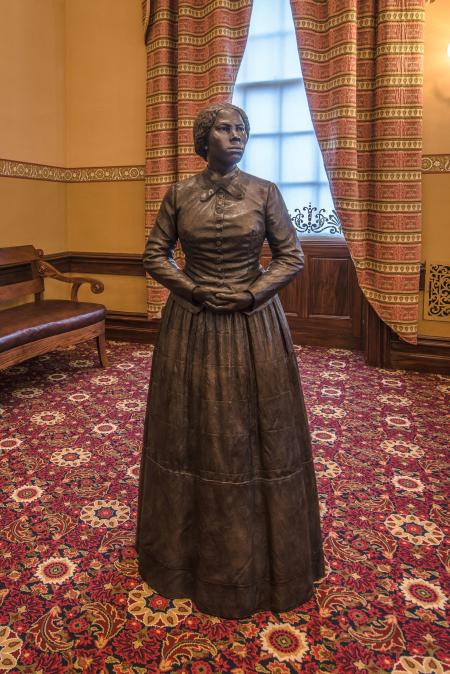 Statue of Harriet Tubman in the State House of Maryland Image courtesy of Visit Annapolis & Anne Arundel County.

 

The Banneker-Douglass Museum features Maryland natives like Herbert M. Frisby, a student of Inuit and Yupik culture, who made 21 explorations to the Arctic Circle, and like his predecessor Matthew Henson (26 explorations), reached the North Pole.

 

The statues of abolitionists and political activists like Harriet Tubman and Frederick Douglass are on public display at the Maryland State House. Take a stroll about the State House Square and you will find Thurgood Marshall overlooking the Lawyer's Mall.

 
National Treasures
Wherever you venture in Anne Arundel County, you are bound to encounter pieces of African American heritage. From the Banneker-Douglass Museum, Aris T. Allen Statue, and Alex Haley-Kunta Kinte Memorial to City Dock, Sandy Pointe State Park, Parole, Old Fourth Ward, and beyond.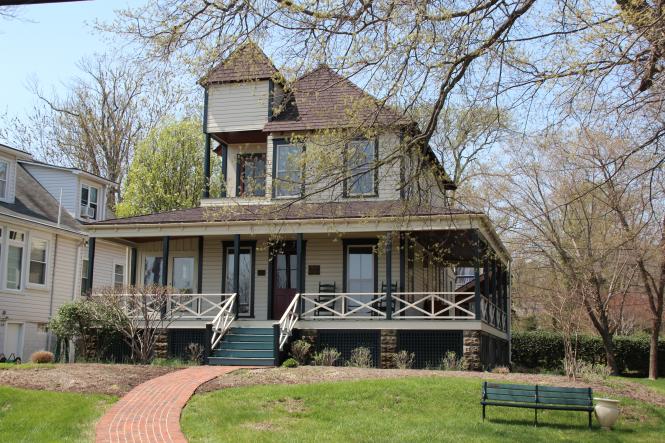 Twin Oaks Was Frederick Douglass' summer home in Highland Beach, MD. Image courtesy of Visit Annapolis & Anne Arundel County.

 

Founded in 1893 by the son of Frederick Douglass, Charles Douglas, Highland Beach was a summer retreat town. Harriet Tubman, Langston Hughes, Arthur Ashe, and Bill Cosby have been among the guests and residents of Highland Beach. The incorporated status of Highland Beach even allowed for the maintenance of its police force.

 

Asbury United Methodist Church is a staple in Annapolis and has been a sacred space for the oldest African American congregation since 1803.

 

Wiley H. Bates High School serves as a reminder that vision, dedication, and wholesome efforts can positively change the course of lives forever. The latter was the case of Wiley H. Bates, a man who freed himself by educating himself, freeing his mind, and diligently working to educate children.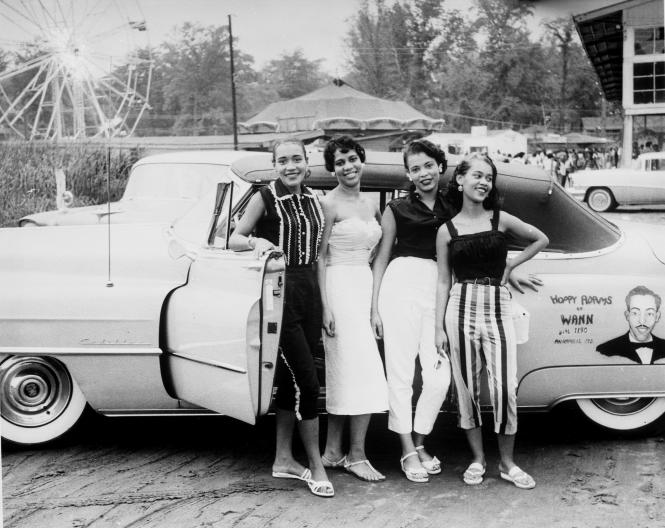 Carr's Beach, four women in front of Hoppy Adams' car. Image credit: MSA SC 2140-1-155 Unknown photographer, c. 1956.

 

Carr's Beach is now a living memory; however, in the 1950s and 1960s, it was a popular resort and vivacious concert venue on the Chesapeake Bay. Prominent musicians and artists like James Brown, Ike and Tina Turner, The Temptations, and Hoppy Adams left their marks at Carr's Beach.

 

Upload your Black History Event or Program here.

 

Learn more at Black History 365.