Visit Annapolis & Anne Arundel County this Labor Day for a last-minute weekend getaway! 
 
Annapolis is more than an 18th-century colonial port city and Maryland's state capital. It is a destination full of quaint hotels, award-winning restaurants, brackish bay waters, and mesmerizing sunsets. Explore our historic streets, museums, gardens, and the U.S. Naval Academy to discover over 370 years of history. Spend time on the Chesapeake Bay for an exciting sailboat race or a leisurely paddle down our creeks and rivers. Capture that last bit of summer and get lost this Labor Day in Annapolis & Anne Arundel County with this weekend itinerary.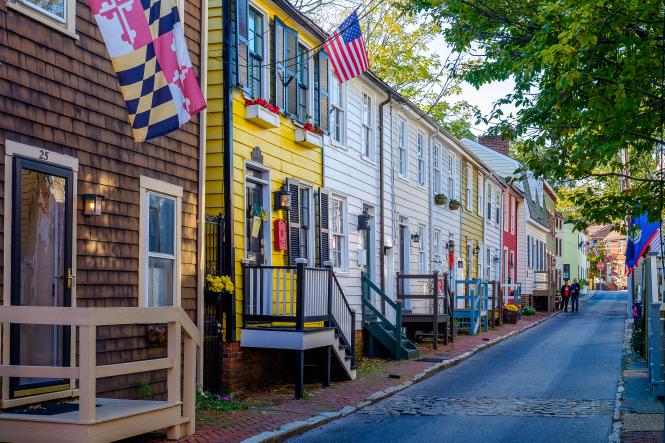 Annapolis was founded in 1649 and is older than Charleston, South Carolina. Image courtesy of Bob Peterson

 
Day 1

Check into one of our downtown Annapolis hotels or boutique properties and experience the charm that historic Annapolis is known for. After you make yourself comfortable, head to the waterfront for a walk along Ego Alley and snap a selfie with the boats, dinghies, and ducks lining the harbor. Then make your way to dinner along Market Space and choose from one of the old colonial taverns that have seen the likes of politicians and sailors for over 370 years. Or opt for a waterfront dining spot along the Annapolis harbor. If you are up for a short walk, cross the Spa Creek bridge to one of Eastport's delightful eateries.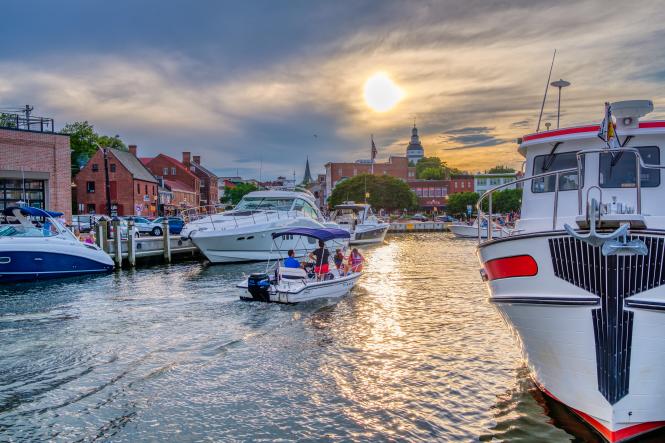 Watch the boats cruise through Ego Alley and catch a sunset over historic Annapolis, MD. Image courtesy of Bob Peterson

 
Day 2 

With a full day in town, we suggest a delicious breakfast at one of the many brunch spots dotted throughout downtown and West Annapolis to start you off on the right foot. Or, if you prefer a grab-and-go, stop in for a quick cup of joe and a muffin from one of the city's famous coffee shops. 
 
Next on the list is a walking tour! We suggest the African American Walking Tour from Our Legacy Tours or a history tour from Watermark Tours, Charters, and Cruises for the history buffs. For a different view of the city, hop on a trolley tour with Towne Transport and enjoy a leisurely history tour from the comfort of an air-conditioned trolley. Annapolis is also home to the United States Naval Academy, and they offer a variety of tour times daily, departing from the Armel–Leftwich Visitor Center.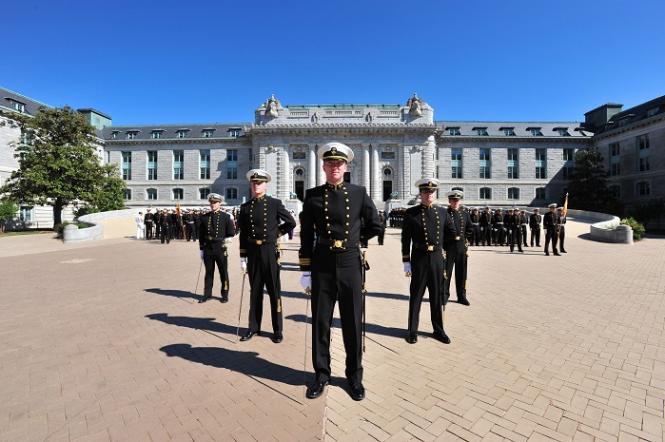 Tours of the Naval Academy are at the top of the list for visitors to Annapolis & Anne Arundel County.  Image courtesy of the U.S. Naval Academy

 
 
Sightseeing also pairs perfectly with shopping. A quick drive to Maryland's largest discount retailer, Arundel Mills, might be the perfect fit for the value shopper. With numerous name brands and stores, it's ideal for back-to-school shopping and Labor Day Deals!  
 
Outside the historic district, West Annapolis offers chic boutiques like women's fashion favorite Wrabyn and charming antique stores and thrift shops. For a memento of your stay in Annapolis, consider Revival, a home goods store with the perfect balance of creative gifts and home goods with a penchant for wares reminiscent of the city's nautical roots. 
 
Wind down your day by the bay with a rooftop cocktail in the Annapolis Arts District or a fresh margarita from Agave in West Annapolis. With so many culinary influences, it may be hard to remember that you are spending Labor Day weekend in Maryland Blue Crab Territory.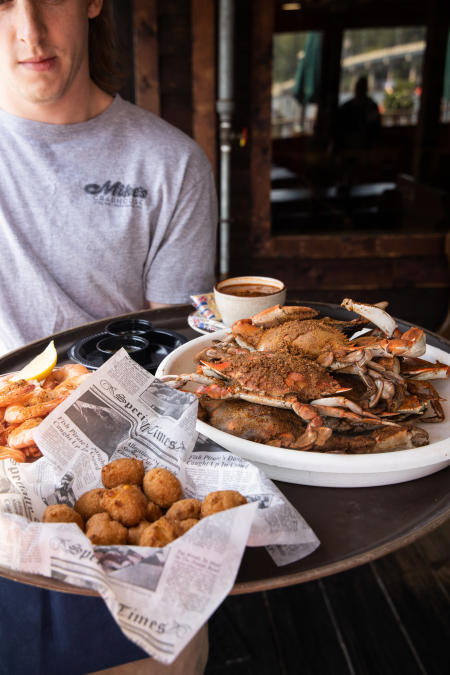 You can't celebrate Labor Day without a fresh, steaming, JO-seasoned batch of Maryland Blue Crabs!  Image courtesy of Visit Annapolis & Anne Arundel County

 
Day 3
You cannot come to Annapolis without enjoying some of the city's maritime activities. If you are an early riser, try a sunrise stand-up paddleboard excursion; pups are also welcome! Another pup-friendly activity is a boat cruise aboard the iconic Harbor Queen, or if you are pinched for time, cruise from one side of the harbor to the other aboard the water taxi- it is a quick yet leisurely way to see the yachts and sailboats dotting the local marinas and yacht clubs.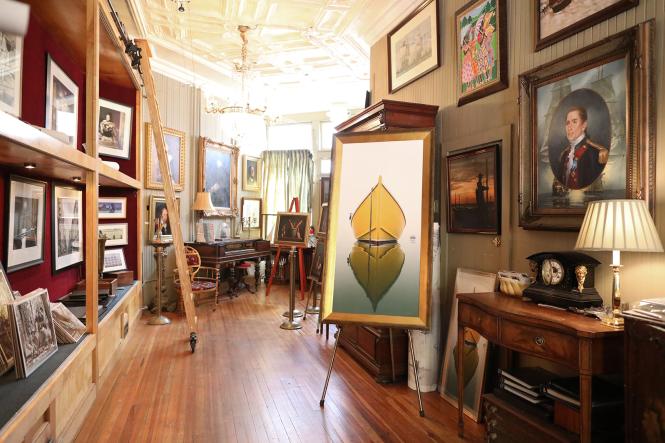 Annapolis Collection Gallery on West Street. Image courtesy of Visit Annapolis & Anne Arundel County.


 
'A' is not only for Annapolis but also for our thriving Arts community! Downtown along Main Street, West Street, and Maryland Avenue, local art galleries and artist cooperatives sell everything from upcycled art installations to pottery, glassworks, and paintings. If you have more time and are headed south from Annapolis, download the map for the Vintage Loop. It is an antique and artisan treasure trove that winds through the bucolic countryside of southern Anne Arundel County.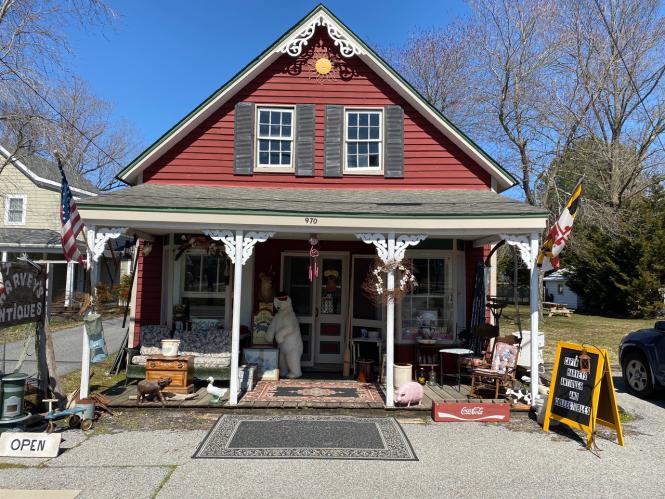 Discover Captain Harvey's and more antique stores along the Vintage Loop in southern Anne Arundel County.  Image courtesy of Visit Annapolis & Anne Arundel County.


 
Annapolis is the ideal last-minute Labor Day getaway. The locals are friendly, the seafood is bountiful, and founded in 1649; we are one of the oldest cities in the country, even older than Charleston, SC.! Explore by day and linger at night, enjoying time on the water, meandering through the historic city center, taking in dinner by the water, and capture the perfect Chesapeake Bay sunset.

For more #SummerFun download this last-minute summer bucket list!
 
Discover more Annapolis & Anne Arundel Itineraries on our website!