Planning Tips & Ideas
Congratulations on your recent engagement! And, "great choice" selecting Annapolis and Anne Arundel County as your wedding destination.
We love our little city, and we know you will too.  The diversity of Anne Arundel County offers a plethora of options and styles surrounding Maryland's State Capital, Annapolis. From waterfront to countryside, and modern appeal to traditional elegance, Annapolis & Anne Arundel County has everything you need to make your special day truly memorable.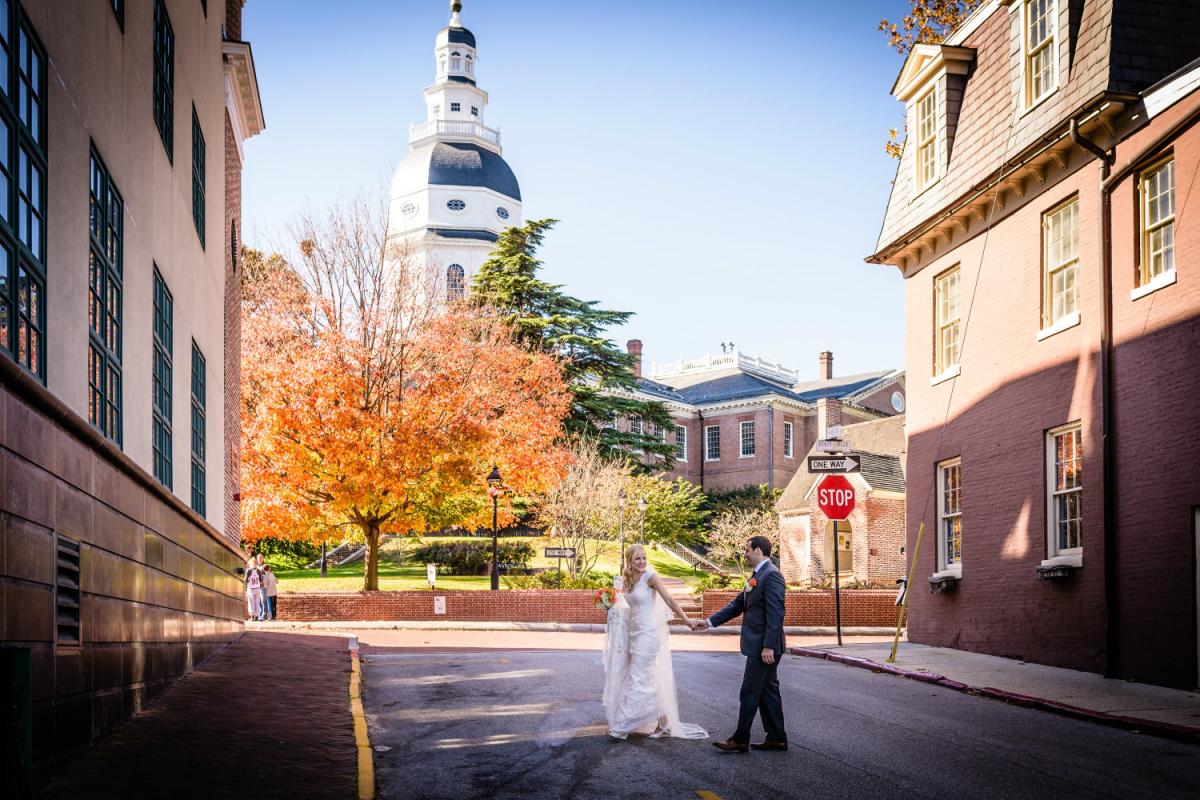 To help your planning process, we put together a short wedding manual for the Annapolis area. It will help answer many of the questions brides have with planning their wedding day:
The Legal Side Of Things:
Marriage License for Anne Arundel County
Marriage licenses are available during the week at the Circuit Court for Anne Arundel County.
8 Church Circle
Annapolis, MD 21401
(410) 222-1397

One applicant must apply in person to give the information for both parties. The application process takes approximately 15 minutes, and there is a 48-hour waiting period before the license is valid. The fee for the license is $55.00. The marriage license is valid for six months from the date of issuance and is only valid in Anne Arundel County. For more information, visit the website.
Civil Marriage Ceremony
Civil Ceremonies are performed on a walk-in basis during the week at the Circuit Court Chapel. The hours for civil ceremonies are 9:00 AM. – 12:00 PM and 1:00 PM – 4:00 PM. The fee for a civil marriage ceremony is $25.00 (checks are not accepted as payment). Friends and family may attend to witness the ceremony.
Permits/Legal Requirements on Venues
If you are looking at getting married on a picturesque beach, a national park, or a historic building, you may need to get a permit to do so. In most cases, you will discuss the requirements for the venue with the administration team once you book your appointment. Please keep in mind the majority of venues are fully booked months in advance.
Picking Your Date:
Dates to Consider
When picking your wedding date, make sure you check our major event calendar for anything that might impact hotel room rate and availability. Here are a few event dates you should try to avoid or book far in advance:
USNA Commissioning Week (always Memorial Day Weekend)
Fall Boat Show (First two weekends in October)
USNA Navy Football Home Games in the Fall (Navy class reunions are always held on game days)
 
Weather
Anne Arundel County boasts warm summers and mild winters, and the weather during spring and autumn is generally pleasant. There are no pronounced wet and dry seasons, and breezes from the Chesapeake Bay and nearby creeks moderate the county's temperature.
For Your Guests:
Around Town
There is plenty of things to do around Annapolis and Anne Arundel County. From the Arundel Mills Entertainment District to City Dock in Downtown Annapolis, there's no shortage of fun to be had! There's something for everyone and of all ages, whether it's sailing on the Chesapeake, seeing a live show at one of our many music venues, or simply doing some retail therapy at our malls and quaint shops. A list of events around the area can be found here.
Transportation
Anne Arundel County is conveniently located between Baltimore and Washington, D.C., just off the east coast's major north-south highway, I-95.  Annapolis is just 26 miles from Baltimore's Inner Harbor and 32 miles from Washington, D.C. There are several ways to reach us:
Airlines including Allegiant, American, Delta, JetBlue, Spirit, United, and WOW Air more fly into Anne Arundel County's BWI Thurgood Marshall Airport regularly
AMTRAK has a stop at the BWI station with multiple trains running daily
MegaBus has daily routes from NYC to Annapolis
SafeRide is an alternative ride-scheduling service for those who want peace of mind from their drivers. SafeRide will deliver your guests to your wedding safely and on time!
The county also offers Uber & Lyft
 
Lodging
With more than a dozen major hotel chains located within a short drive to the bustling streets of downtown Annapolis, our accommodations combine the familiarity and comfort you've come to expect from bigger hotels with the proximity to all the things to do in downtown. Our region also reaches all the way up to the Baltimore Washington International Airport. There are so many great hotels in that area.
If you are looking for group room nights, contact our Director of Sales, Elizabeth Joyner.