Jetsetter Magazine has recently named Annapolis one of the 8 Most Romantic Weekend Getaways from New York City.
8 Most Romantic Weekend Getaways from New York City By Jennifer Fernandez August 1, 2019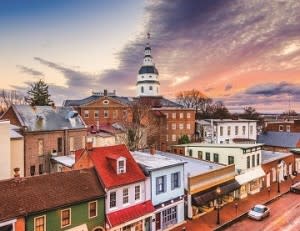 Between dinging phones and never-ending work schedules, it's hard to keep the romance alive in modern relationships. But a perfectly timed, well-planned getaway can be just the thing you need to break out of your weekly routine and see your partner in a rosy new light. Here, eight romantic weekend escapes from New York City that encourage hand-in-hand strolling with the object of your affection.
Annapolis is often overshadowed by Baltimore, its neighbor to the north, but this postcard-perfect port town is a worth a visit in its own right. See its famous 18th-century architecture at places like the Palladian-inspired Hammond-Harwood House, built during colonial times, as well as the William Paca House & Garden, a 1760s Georgian mansion owned by a signer of the Declaration of Independence. From there, it's a short walk to the Maryland State House, with its impressive dome, and the Beaux Arts grounds of the sprawling riverfront U.S. Naval Academy. Once you've dropped your bags at the stylish Loews Annapolis, make a beeline for City Dock to enjoy drinks and crab cakes on the sailboat-studded Chesapeake, then turn up Main Street for a sweet scoop at the Annapolis Ice Cream Co. (Their 36 homemade flavors are rotated daily, so multiple visits are encouraged.)
For the full article, visit
here
.