Holiday Events
Consistently ranked one of the best cities in America during the holidays, Annapolis is a great place to spend the weekend enjoying time with family and soaking in the holiday spirit. Here's a list of holiday events to help plan your next holiday excursion in Annapolis.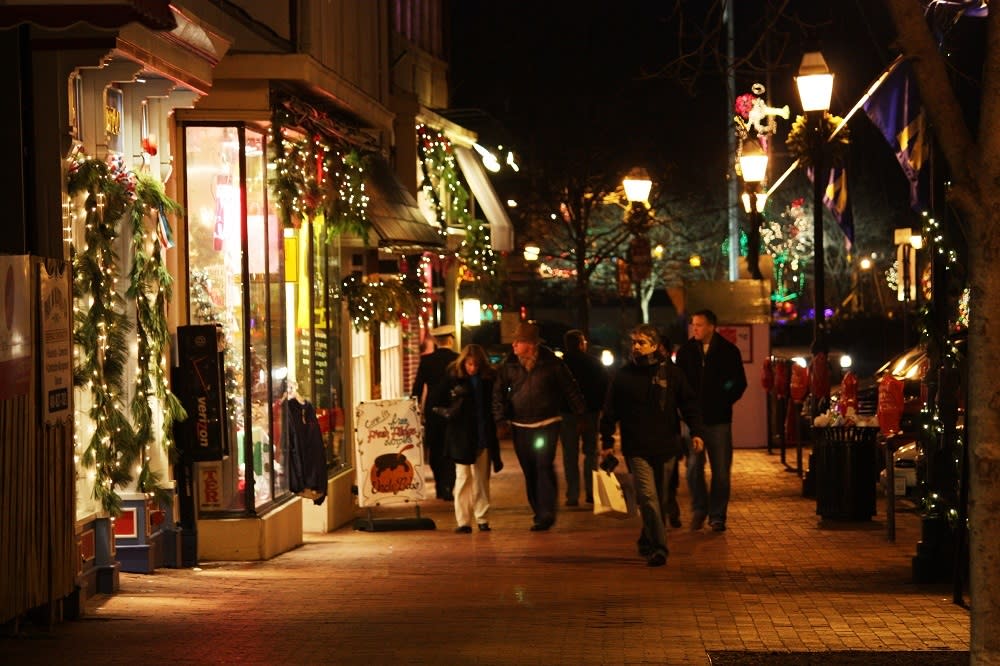 Midnight Madness
Don't miss Midnight Madness Thursdays, December 3rd and 10th, 2020 from 4:00 PM until Midnight and December 17th from 4:00 PM to 11:00 PM, where select stores in downtown Annapolis will remain open until midnight giving bargain-hunters and last-minute shoppers an excuse to get out and shop well into the night. With all local retailers following city, county and state safety guidelines, you can leave your worry at the door and take advantage of special deals in the middle of holiday fun. So, come enjoy the spirit of Annapolis as the town will be inundated with magical display and adorned with cheer throughout the night.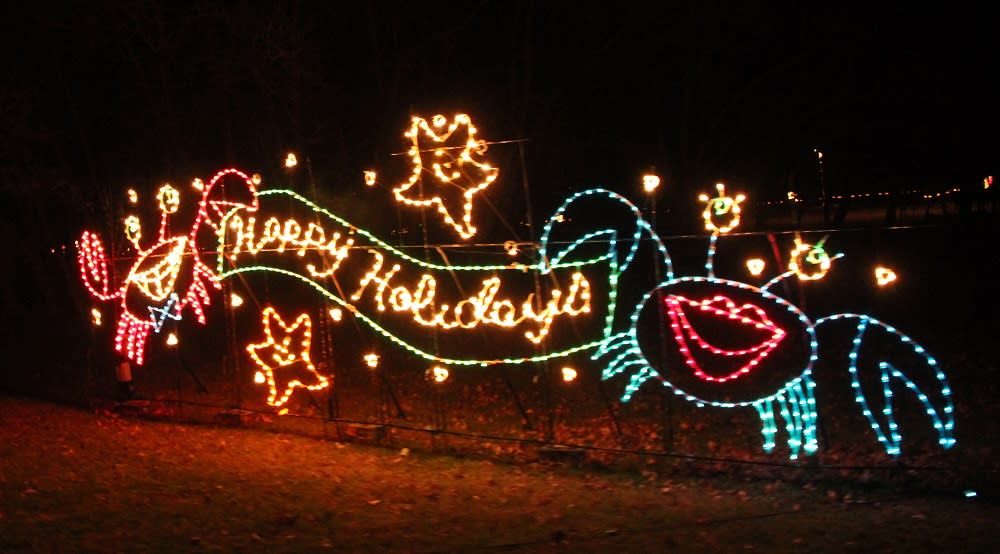 Spectacular Holiday Light Display Comes to Sandy Point State Park
There's no better way to get the whole family into the holiday spirit than cruising along the shore of the Chesapeake Bay during Lights On The Bay,  November 20th through January 2nd. Weather permitting, the electric wonderland will be on full display nightly from 5:00 p.m. to 10:00 p.m. at Sandy Point State Park (1100 East College Parkway, Annapolis, MD 21409). Take a night - or a couple of nights - to enjoy the electric show from the warmth of your own car.
If you're visiting Annapolis for the holidays, you can't miss this once-a-year event. More than sixty animated and stationary displays dazzle onlookers young and old. Driving through the park, you'll see a display of Old Time Annapolis City, a colonial village, the North Pole, along with some regional staples like Midshipmen throwing their hats at graduation, the Thomas Point Shoal Lighthouse, and a Maryland Blue Crab; however, the most anticipated sight is the sixteen-foot teddy bear lighting up the Chesapeake Bay. 
With all proceeds going to the SPCA of Anne Arundel County, you'll be treated to a spectacular show while contributing to a good cause.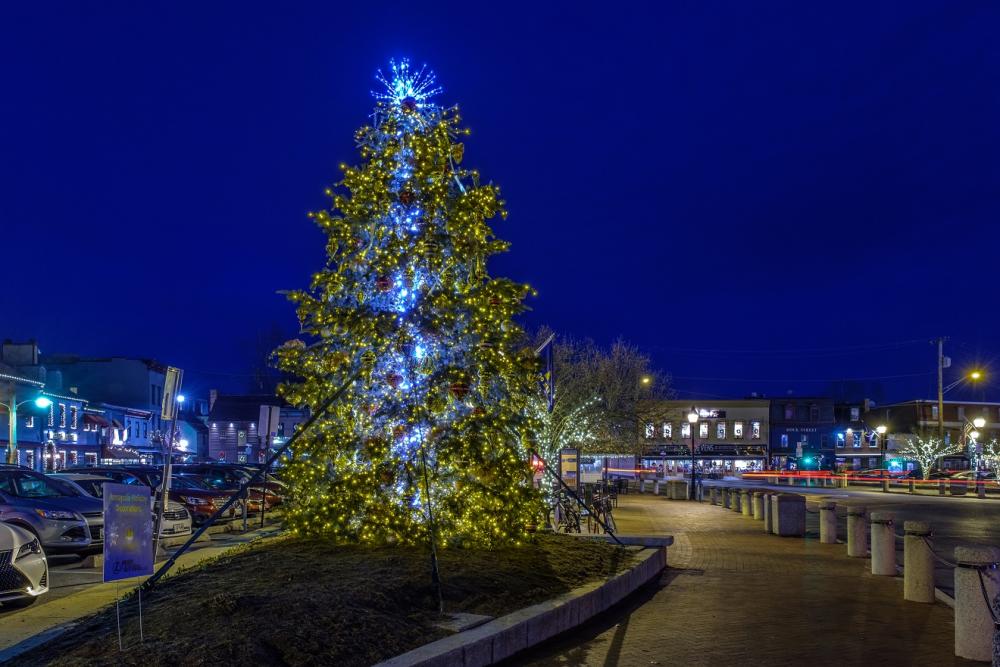 Tree Lightings
Two separate tree lightings kick-off the holiday season in Annapolis. Experience the magic together at the Annapolis Town Center with their decorated holiday tree. Join them for their first annual Holiday Stroll November 28th, 2020 as visitors enjoy all day entertainment, sidewalks overflowing with merchandise, and even a wreath making workshop, plus more.
With our biggest tree yet, enjoy a display of ornaments downtown at Annapolis' City Dock on or after December 1st, decorated by the U.S. Naval Academy in honor of their 175th anniversay. Make it an evening with a historic pub crawl and shop the garland lined streets of boutiques to find the perfect gift for loved ones.
 
Chocolate Binge Festival
While this year's Chocolate Binge Festival is taking a hiatus this holiday season, we encourage you to visit our local bakeries and candy stores to shop for your own sweet and delectable treats! Or sample some delicious hot cocoa creations from one of Annapolis' many cafes or coffee shops! Learn more about the event 
 
Holiday Arts Festival
New this year, enjoy shopping in-person from 50 artists in the open air November 1st, 2020 and December 6th, 2020 from 11:00 a.m. to 4:00 p.m. With the perfect backdrop to inspire creativity in the Arts District of Annapolis, stroll West Street as it fills with socially-distanced vendors and find some unique this year. This hybrid event also features the ability to shop online from over 200 local vendors .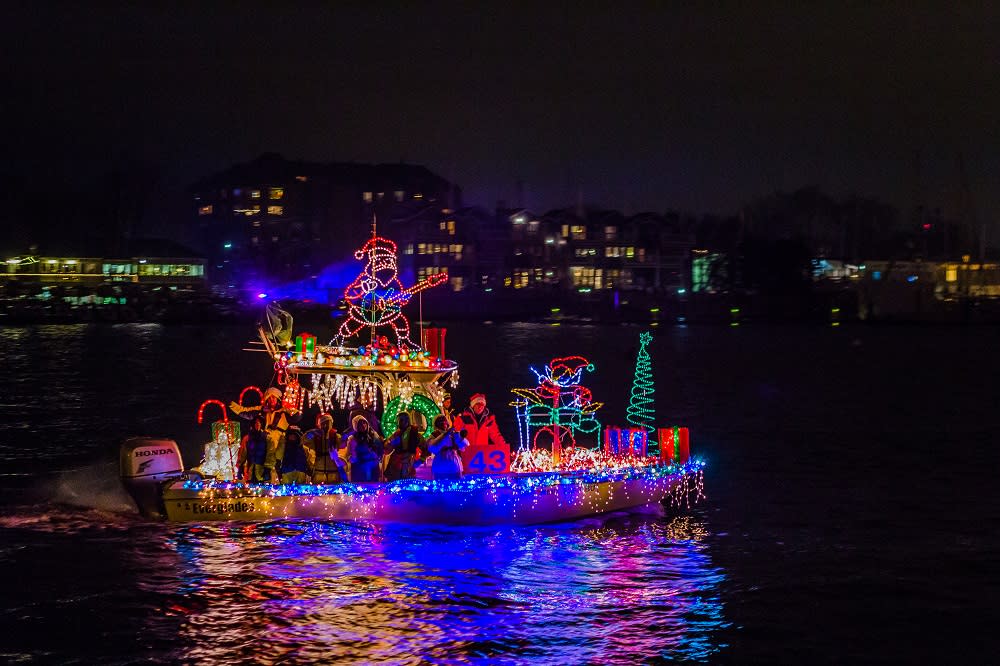 Eastport Yacht Club Lights Parade
Magic happens on the water of the Annapolis Harbor on Saturday, December 12th, from 6:00 PM to 8:00 PM, as boats suddenly appear out of the cold winter night illuminated with thousands of colored lights and crewed by jolly revelers.  Families and friends gather at their favorite viewing spots along the waterfront to see this yearly spectacle and to celebrate the holiday season together.  The Eastport Yacht Club Lights Parade is one of Annapolis' signature events and we invite you to join us as a participant in the parade or as a spectator cheering on the decorated boats and their crews. Find many options to safely enjoy the annaul lights parade on our event calendar.
 
Make it a Getaway This Holiday Season in Annapolis
Browse our full event calendar for a full directory of holiday happenings. Or request our 2020 Holiday Guide to be mailed online. Start planning your stay at one of area's hotels or a historic inn or B&B.
 
Holiday Event Parking 
Enjoy FREE holiday parking in downtown Annapolis this season at various locations. Additionally, all city parking meters will be free for the first two hours for everyone between Thanksgiving and New Years Day. A bonus free hour at the meters is available by using the code ParkDTA on the Parkmobile App. Read below for more details.