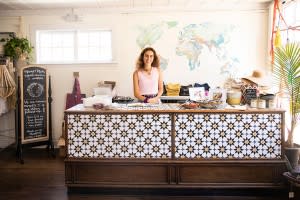 Mango & Main is an outgrowth of the online fair-trade store Annapolis resident Shannon Riesenfeld launched three years ago. The retail shop features women's clothing and accessories from 23 countries from around the world – including goods she helps oversee from design to development in Rwanda, Haiti and Peru.
Shannon says the hero in this story is the customer. "The creators of these fine crafts are counting on customers to buy their products. I'm just making the products available. I am giving people the opportunity to be a part of a bigger story. We invite individuals to use their purchasing power for good." The South Carolina native's journey to retail began when she met women working in a sewing coop during a trip to Rwanda. Prior to pursuing fair trade, Shannon had been a mechanical engineer working in the design and construction department at Johns Hopkins School of Medicine.
Shannon partners with Connect Rwanda in Annapolis and has begun carrying their Gorilla brand fair-trade coffee that's designed to help Rwandan farmers. The organization's primary mission is to equip Rwandan schools with technology. Photos of Mango and Main.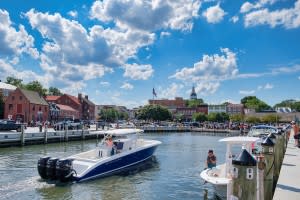 City Dock in Annapolis and Historic London Town and Gardens in Edgewater have received "Site of Memory Associated with the Slave Route" designations from the United Nations Educational, Scientific and Cultural Organization (UNESCO). A historic marker will be placed at City Dock to commemorate the lives of enslaved Africans who were forced to endure the trans-Atlantic journey known as the Middle Passage. London Town shares the history of the colonial port town of London on the South River. At least eight slave ships called into London between 1708 and 1760. Hundreds – perhaps thousands – of slaves were sold there.  Photos of City Dock and Historic London Town and Garden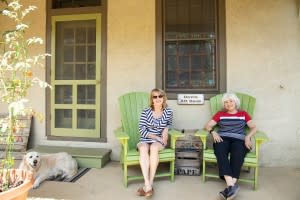 Saying No to Styrofoam Ahead of Anne Arundel County's and the State of Maryland's ban on Styrofoam, the City of Annapolis banned polystyrene (EPS) foam food service products effective September 1st, 2019. Commonly referred to by the trademarked name 'Styrofoam,' the products are now prohibited for use and sale at food service businesses and grocery and convenience stores in the City of Annapolis. The ban on EPS foam cups, bowls, plates, takeout containers, clamshells and trays impacts full, fast and self-service restaurants, grocery stores, vending trucks and food carts. Institutional cafeterias and other businesses that sell or provide on-or-off-premise food for consumption are also affected by the ban. As an alternative, businesses may use containers composed of compostable materials, paper, plant (sugarcane, rice, bamboo), aluminum and glass. EPS foam is made from a nonrenewable petroleum byproduct. It is not recyclable and does not biodegrade. Instead, EPS breaks down into small pieces that are dangerous to fish and wildlife.
Plastic-Free Annapolis In its ongoing effort to reduce the use of single-use plastic in Annapolis, the non-profit Annapolis Green teamed up with the City of Annapolis on an August 20 to September 20 Plastic Free Annapolis public education campaign designed to reduce – and eventually eliminate – the use of single-use plastic, including bags, water bottles, carryout containers, balloons and straws. The campaign targeted hotels, restaurants, bars, coffee shops and charter boat owners. More than 40 establishments are already on the path of significantly reducing the use of plastic that threatens Annapolis and its waterways.