Southern Living Magazine recently named the U.S. Naval Academy among the South's Most Beautiful Colleges:
The South's Most Beautiful Colleges By: Jennifer Chappell Smith, Southern Living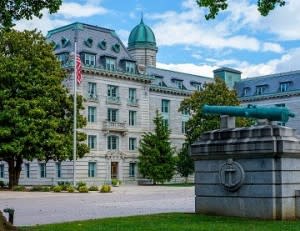 U.S. Naval Academy Annapolis, Maryland
Founded in 1845; usna.edu
The waterside setting on the banks of the Severn River in historic Annapolis and the picturesque Beaux Arts-style campus compose a fitting backdrop for the school's important mission. Tourists can watch the midshipmen's noon mealtime formation in Tecumseh Court in front of landmark dormitory Bancroft Hall. Either a band or drum will typically usher students along as they enter the dining hall in precise formation. In addition to structures like the imposing Mahan Hall across the courtyard from Bancroft, other buildings worth a tour include the domed chapel, with stained glass windows depicting water-related scenes, and the U.S. Naval Academy Museum in Preble Hall. Nestled between the river and the heart of downtown Annapolis, the campus exudes a level of military tradition and patriotism that's palpable.
To read the full article, visit here.