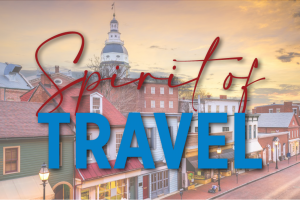 FOR IMMEDIATE RELEASE CONTACT: SUSAN SEIFRIED, SSEIFRIED@VISITANNAPOLIS.ORG, 410-507-8739 DATE: MAY 1, 2020
Visit Annapolis & Anne Arundel County Salutes Area Residents during National Travel and Tourism Week (May 3-9)
ANNAPOLIS, MARYLAND—Visit Annapolis & Anne Arundel County (VAAAC) is using the 37th annual National Travel and Tourism Week (NTTW) celebration (May 3-9) to salute Annapolis and Anne Arundel County residents and businesses for their resiliency, selflessness, ingenuity, and determination in the face of the COVID-19 pandemic.
As VAAAC Chairman of the Board Gary Jobson sees it, Annapolis and Anne Arundel County residents epitomize NTTW's 2020 Spirit of Travel theme. "We're a Navy town with a 'Don't give up the ship' mentality. In the face of COVID-19, friends and neighbors are working together with elected officials and community leaders to help ensure no families, no businesses are left behind. Our eyes are fixed on the goal of emerging from the pandemic stronger and better than ever before."
Annapolis Mayor Gavin Buckley says it's important to remind people during Travel and Tourism Week that Annapolis will continue to thrive after coronavirus is over. "We are a city with a long and rich history. We are a one-of-a-kind vacation destination as the state capital and home to the U.S. Naval Academy. It is important to remember, though, that our strength has always been in the people of Annapolis. They've been working tirelessly to help preserve, protect, and enhance the destination, to strengthen it from the core, so that when people are ready once again to travel, we'll be ready to welcome them with open arms."
As a salute to the community's indomitable spirit, VAAAC staff will be giving away Don't give up the ship #WeAreAnnapolis posters in front of the 26 West Street Visitors Center on Tuesday, May 5. Interested individuals who would like to hang the posters in their storefront windows are invited to stop by between 10:00 a.m. and noon to pick up a free poster, while supplies last. Banners bearing the same message will be flying along Main and Outer West Streets in downtown Annapolis by Friday, May 8.
Jobson says NTTW provides the perfect opportunity to focus on the heart and soul of Annapolis and Anne Arundel County's tourism industry. "The stars in this saga are each and every individual who contribute in any way toward making our destination a better place to live, work and thrive. Let us thank one another, support one another, and never forget how utterly dependent we are on one another."
VAAAC will be sharing stories of community collaboration daily via its social media channels, and it invites individuals and organizations throughout the destination to help keep the good news coming by sharing their own unique stories with the hashtag, #WeAreAnnapolis, and tagging @VisitAnnapolis. While stay-at-home orders are restricting travel during this year's NTTW, the VAAAC website invites individuals to download iconic images and use them as backgrounds for Zoom meetings with family members, friends, and business associates. The site's Spirit of Travel playlist and a host of virtual tours and events make it easy for area residents and visitors to research and plan their next trip to America's Sailing Capital, the BWI/Arundel Mills region, and the surrounding countryside.
Congress created NTTW in 1983 to celebrate the contributions, accomplishments, and economic power of travel in the United States. About Visit Annapolis & Anne Arundel County
Visit Annapolis & Anne Arundel County is a non-profit destination marketing organization that generates revenues for the local economy by promoting Annapolis and Anne Arundel County to leisure and business travelers across the country and around the world.
XXX