Annapolis 4th of July Celebration
July 4th, 2023
Celebrate as the City of Annapolis welcomes residents and visitors for their annual Fourth of July Parade and Fireworks extravaganza! Tuesday, July 4, 2023. For the most up-to-date listing of events, please visit www.annapolis.gov. To plan ahead, use the City's PARKING website and download the app.
4th of July Weekend Activities
Saturday, July 1, 5 p.m. - 10 p.m.
Dinner Under the Stars: The first block of West Street in the heart of downtown Annapolis is closed to traffic on Wednesday evenings and select Saturday evenings in the summer and filled with tables reminiscent of the open-air cafes in France, Spain, and Italy. Enjoy an evening with family and friends under a canopy of white lights while enjoying live music and art demonstrations just ahead of the City's July 4 festivities.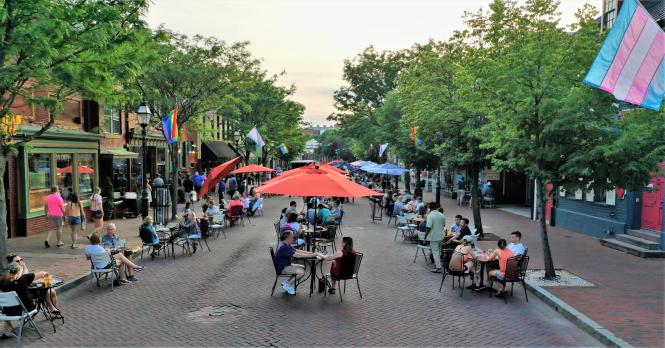 Dinner Under the Stars occurs every Wednesday, May - September (weather permitting), and on Saturdays throughout the summer. Image courtesy of Jeff Voigt Photography.  

 

Sunday, July 2, 10:00 a.m. - 5 p.m.

First Sunday Arts Festival: The Inner West Street Association is the proud sponsor of Maryland's premier art festival. Held the first Sunday from May through November, thousands of visitors enjoy shopping along beautiful West Street in downtown historic Annapolis. Over 100 art/craft vendors, Café dining, and live entertainment to fill your afternoon. It's the perfect weekend activity to kick off the July 4th weekend.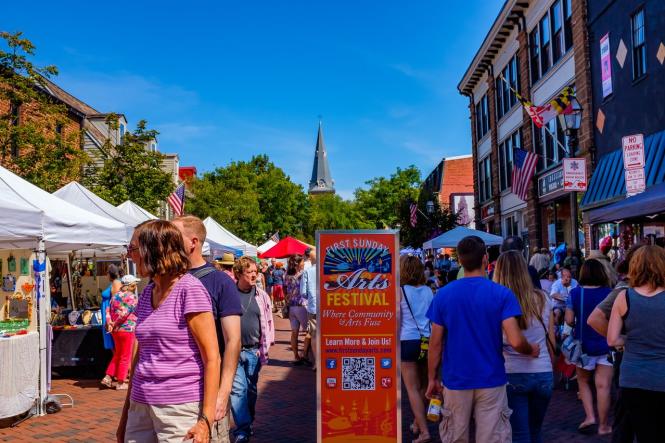 First Sunday Arts Festival. Image courtesy of Bob Peterson.

 
4th of July Parade
Tuesday, July 4, 6:30 p.m. - 8 p.m.
Join this patriotic salute to our nation with marching bands, fire engines old and new, cars and vans, service clubs, and scouts! ROUTE: The parade kicks off at Amos Garrett and West Street. We'll head down West Street, the wrong way around Church Circle, and down Main Street. Anywhere along the parade route will provide a good view of the parade.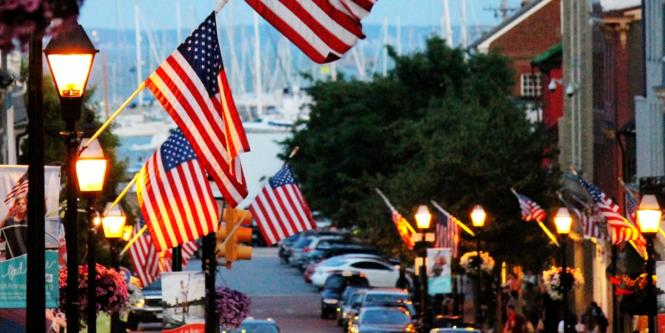 Join us for a historic and patriotic 4th of July parade down Main Street.    
4th of July Fireworks
Tuesday, July 4, 8:00 pm - 9:15 pm (Fireworks begin at 9:15 pm)
Annapolis launches its fireworks from a barge in Annapolis Harbor. Begin lining up at 8:00 PM for the best view. Viewing areas include public spaces Northeast of the Severn River, City Dock, along the Naval Academy Bridge (limited parking area), any of the street end parks facing Spa Creek, and aboard a boat in the Annapolis harbor. The Spa Creek Bridge will be closed to traffic from Eastport into Annapolis beginning at 6 p.m. The bridge will remain closed until the conclusion of the fireworks at approximately 10 p.m. Please be aware that the closer you get to downtown, the harder it will be to park and the more difficulty you will have getting out of town after the celebration. Click HERE for a list of parking options from the City of Annapolis.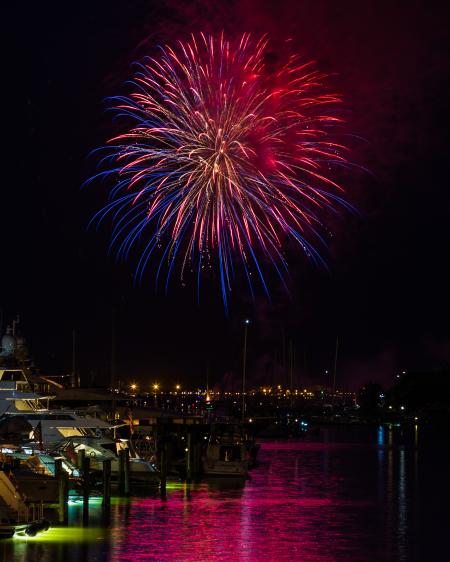 July 4th Fireworks over the Annapolis Harbor. Image courtesy of Bob Peterson.      
Discover more seasonal fun on our event calendar!