US Boat Shows
Every year, Annapolis City Dock (affectionately dubbed "Ego Alley") is transformed into a boater's paradise when the United States Sailboat and Powerboat shows motor into town. Thousands of boaters descend on Annapolis to see the latest and greatest boat models, maritime tech, and boating products. Come see the world's largest in-water boat show and stay for the weekend to see all that Annapolis has to offer, by land and by sea.
US Powerboat Show
2021 dates: October 7-10
2022 dates: October 6-9
The US Powerboat Show features everything from luxurious motor yachts, trawlers, high-performance boats, and offshore fishing vessels. There are also family cruisers, center consoles, and inflatable and trailerable powerboats. Vendors' tents line the waterways, selling everything powerboat enthusiasts could dream of, as well as offering boating lessons, rentals, and more.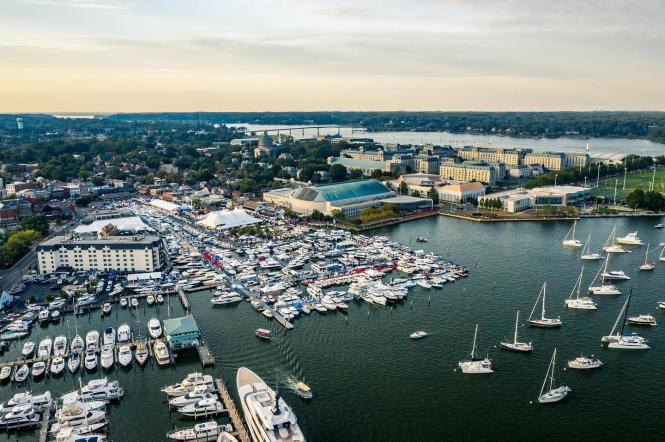 The largest in-water boat shows in the world come to Annapolis every October. This tradition is a must for any avid boater. Image courtesy of
410 Films.
US Sailboat Show
2021 dates: October 14-18
2022 dates: October 13-16
What better place than the Sailing Capital of America to host the world's most impressive sailboat show. Spend the day hopping from one vessel to another before stocking up on sailing essentials from the many vendors in attendance, offering everything from high-tech navigational equipment to outboard motors.
For more information on parking options for both shows, click HERE.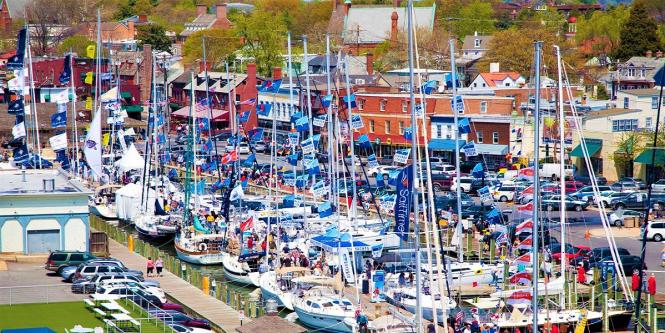 The US Sailboat Show takes up the entire city front of Annapolis every October. Image courtesy of Annapolis Discovered.
Make a Weekend Out of It
Once you've had your fill of boats, explore the city of Annapolis for some unforgettable sights, events, entertainment, and dining.
Where to Stay
You'll definitely be ready for a comfortable place to rest your head after a full day of boat-hopping. Luckily, Annapolis offers a wide range of accommodations. Stay downtown at one of the lovely boutique hotels or bed and breakfasts, or try one of the many options (at all price points) throughout Annapolis and Anne Arundel County. Have an early flight home? Try one of these hotels near BWI for easy access to the airport.
Explore the Arts
While you're in town, be sure to take in some of the rich cultural experiences the city has to offer. From outdoor concerts to world-class theater to chic art galleries, Annapolis has something for everyone to enjoy. 
Where to Eat
Although you might be here for the boats, know that Annapolis is a true culinary destination as well! Of course, you know Maryland has some of the freshest crabs and seafood around, but there is also every type of cuisine you could desire: Italian, Thai, Mexican, French, and so much more! Experience the perfect brunch spots, enjoy some fresh oysters , or take a trip by car or boat to one of the outdoor dining options around the county.
Evening Entertainment      
As you walk through the historic streets of Annapolis, you are likely to hear the tunes of favorite local musicians wafting out of local pubs and restaurants. Certainly, Annapolis is known for its live music scene. If you feel like dancing, be sure to hit up the hot spots along Ego Alley and Main Street for DJs and drinks late into the night. For something a little different (and family-friendly) take one of the city's nighttime walking tours, including ghost tour options (if you dare!)
Or if glitz and gambling is more your speed (I'm looking at you, powerboaters), hop over to LIVE! Casino & Hotel. Whether its gaming, dining, or live music – you'll find it at LIVE!
So whether you're a go-fast powerboater, savvy sailor, or even just boat-curious, the boat shows are a spectacle not to be missed. Buy your tickets now and make it a weekend!