May Day in Annapolis
Get caught up in the hope and promise of spring by celebrating May Day in Annapolis! The Garden Club of Old Annapolis Towne is inviting residents and businesses in the Downtown Historic District to join in their 66th Annual May Day celebration by putting baskets of fresh cut flowers in front of their homes and businesses by 10:00 a.m. on Saturday, May 1.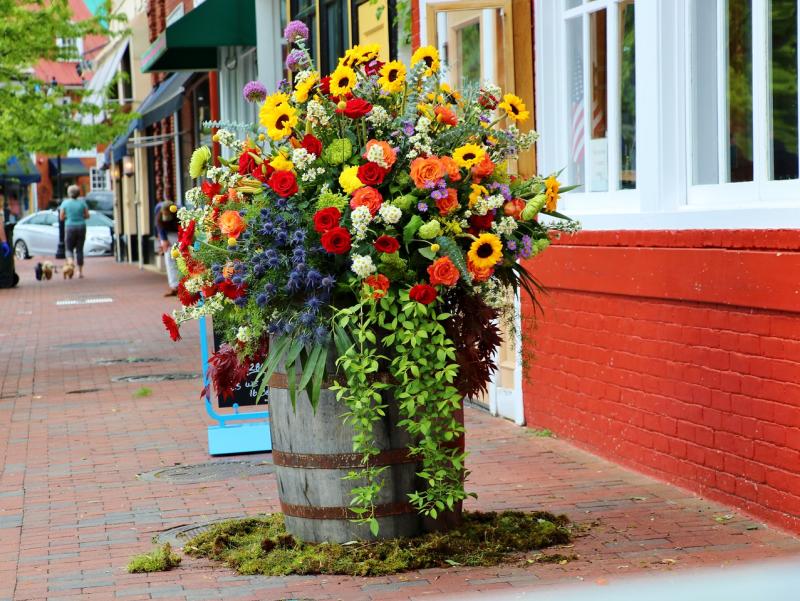 2020 May Day Display Outside Harvest Wood Grill + Tap. Photo by Sue Steinbrook

Due to COVID-19 gathering restrictions, the organization will not be awarding its coveted blue ribbons for the second year in a row, but Garden Club of Old Annapolis Towne president Carolyn Kammeier says the spirit of May Day lives on.
"May Day is one of the most beautiful days of the year in Annapolis. It brings such joy to so many. We're looking forward to seeing all the creative May Baskets and everyone's smiling faces once again."
With this year's event on a Saturday, the city is excited to welcome visitors to our historic waterfront town to take in all of the sights of this beautiful event. While here, visitors can enjoy great al fresco dining, boutique shopping and accommodation deals from our historic inns, B&B's and modern hotels. 
Share Your Favorite Arrangement

Residents, as well as individuals from across the country and around the world, are invited to join in the celebration by creating May Day baskets and placing them on their doors, in their windows, or in front of their homes on May 1. Individuals are encouraged to post images of their creations using the hashtags, #maydayannapolis2021 and #66thannapolismayday. Visit Annapolis will help spread the beauty online by sharing select posts on its Facebook & Instagram pages. Interested individuals are also invited to upload 2021 May Day basket images HERE.

Annapolis May Day, Every Day

For those looking for ways to enjoy the beauty of Annapolis & Anne Arundel County blossoms everyday, the options are bountiful. Keep scrolling for tips on celebrating May Day Every Day. Take advantage of Annapolis & Anne Arundel County's many gardens, parks, flower markets, plant sales, and other garden-related events and offerings all year long.
Upcoming Events

Explore a variety of garden tours, upcoming flower markets & sales, and much more. Find something for the whole family this summer in Annapolis & Anne Arundel County, MD.